Head Music Conductor: Thomas Palmatier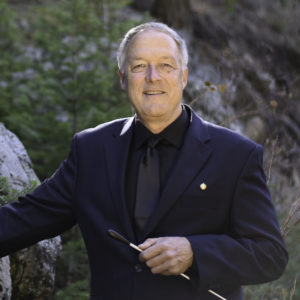 Colonel (RET) Thomas Palmatier culminated a distinguished military career spanning more than 37 years as the Leader and Commander of The United States Army Band "Pershing's Own," the largest military music unit in the United States and was the senior musician in the U.S. Armed Forces.  He is now able to dedicate his efforts to music education and to maximizing the success of arts organizations as a clinician, guest conductor, and consultant, with adding Lead Music Conductor/Director of the TCB to this list!
His United States performances have spanned all 50 states and included concerts in the John F. Kennedy Center, Constitution Hall, and Strathmore Music Center in the Washington, D.C. area, the Adrienne Arsht Center in Miami, and Bass Hall in Fort Worth.  He has appeared in 54 countries and performances have included concerts in the Rudolfinium in Prague, the Beijing Concert Hall, the Shanghai Oriental Arts Center, and a rare performance inside the Kremlin.  Colonel Palmatier is an active clinician, guest conductor, and consultant on organizational structures and leadership around the world.  He was founding Music Director of the Virginia International Tattoo, Producer/Director of the Rochester International Tattoo, and led the Dominion Brass Band to the Honors Division championship of the North American Brass Band Association.  He was Director of Symphonic and Jazz Bands at the Czech Youth Music Camp and a Guest Conductor at the Blue Lake Fine Arts Camp.  He is also a Conn-Selmer Educational Clinician and writes a monthly column for SBO Magazine. www.ThomasPalmatier.com
Assistant Conductor: Mike Gill
Mike Gill retired as the Instrumental Music Director of Westlake Middle School in Broomfield, Colorado where he taught for the 28 years concluding a 31 year teaching career. During his tenure at Westlake, his bands and orchestras consistently received excellent and superior ratings at various state and local festivals, and including performances at Disneyland and Disney's Magic Kingdom in Florida. Mr. Gill also served as the Music Coordinator for the Adams Twelve School District, CMEA District 2 Instrumental Council Representative, and has been a guest conductor and clinician throughout the state of Colorado. Mr. Gill has received the Westlake Teacher of the Year Award and has been selected six times to Who's Who of America's Teachers. He was most recently named in Who's Who of Americans.
Mike is an active freelance trumpeter in the Denver metro area. He has performed with the Colorado Symphony Orchestra, Denver Municipal Band, Colorado Wind Ensemble, Metropolitan Jazz Orchestra, Arapahoe Philharmonic Orchestra, Denver Philharmonic Orchestra, Littleton Symphony Orchestra, Longmont Symphonic Orchestra, and the Broomfield Symphony Orchestra. He has performed for such notables as Bob Hope, Red Skelton, Barry Manilow, Judy Collins, Ice Capades, Ringling Bros. and Barnum & Bailey Circus, to name a few.
Mr. Gill earned his A.A. in Music from Casper College, B.M. in Music Education and Performance from the University of Wyoming, and his M.Ed. in Educational Technology from Lesley University. He is a member of Phi Beta Mu, Phi Theta Kappa, and Phi Mu Alpha Sinfonia. He is active in Boy Scouts of America as a Commissioner and leadership trainer. Mr. Gill resides in Brighton, Colorado with his wife, Lori where they raised their two sons, Miles and Liam.
Assistant Conductor: Nicole Rubis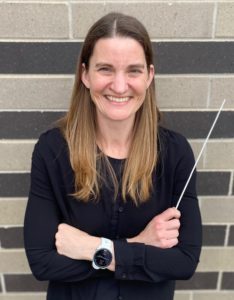 Nicole Rubis is Director of Orchestras at Rocky Top Middle School, where she teaches 6th-8th grade ensembles. Nicole taught 5-12 instrumental music for 20 years in MN, as well as choir, pep band and jazz band. Outside of the school day,  Nicole directed the high school pit orchestra and was music director for many years of middle and high school theater shows in the Columbia Heights school district. Nicole joined the Rocky Top Middle school staff in 2019.
Rubis holds a Bachelor of Music with emphasis on clarinet and vocal performance.  She performed on clarinet for 17 years with the Bloomington Medalist Concert Band, as well as other ensembles around the Minneapolis/St. Paul area. She is currently a member of the Thornton Community Band, where she serves on the Board of Directors  and is a substitute player for the TCB Chamber Winds. 
In her free time, Nicole can be found outdoors running, hiking and biking and spending time traveling.
---
Past Conductors of the TCB:
Ned Avery has a master's degree in conducting from Western Washington University and a Master of Music Education with an emphasis in jazz studies from the University of North Texas. His undergraduate studies were at UNC Greeley. He also plays cornet with the Rocky Mountain Brassworks and Thornton Community Band. Ned has retired from teaching music after 25 years in the industry but continues to promote music education by assisting the TCB as an assistant conductor. Ned has been a Thornton Community Band member from the first year: "I've played in community bands since I was 15 and believe they offer a great opportunity for adults to continue making music and making new friends." Currently Ned is involved with the TCB by playing his trumpet and cornet. 
---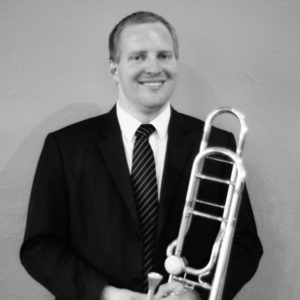 Kyle Dobbins – Originally from Mount Liberty, Ohio, Kyle Dobbins has taught Band and Orchestra in Wyoming and Colorado since 2009. He graduated from The University of Wyoming in 2009 with a bachelor's of music in music education and earned his Master of Music Education in 2018 from the University of Colorado Boulder. He moved to Colorado in 2012 and has taught music in Denver Public Schools since 2014. He has been the director of instrumental music at Denver South High School since 2017. At Denver South, he directs the beginning and advanced orchestras, the beginning and advanced concert bands, the Rebel Rouser Pep Band, the Rebel Jazz Band, the Rebel Line—Denver South's performance drumline—and teaches the beginning level drumline and world percussion class, as well as the after-school student-run jazz combo.
In addition to serving as the director the bands, orchestras, and drumline at Denver South High School, Dobbins has been active in the music scene around the Denver Metro Area as a music sub and has performed with the Denver Pops Orchestra, The Rocky Mountain Brassworks, Gora Gora Orchestra, and the Colorado Jazz Workshop. He serves on the governing board of the Thornton Community Band and also as an assistant conductor. When he is not teaching at Denver South, conducting, or playing trombone around town, Dobbins enjoys hiking, skiing, and keeping his lovable lab, Jackson, from chewing up the furniture. Currently Kyle is involved with the TCB by playing his trombone.

---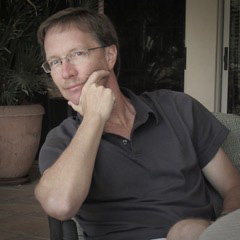 Robert Wagner is a Colorado Native with strong ties to Thornton having graduated from Thornton High School and ending his teaching career of 30 years as the director of bands for Horizon High School in Thornton. Wagner has had a career in music spanning more than 40 years. He began playing professionally in his teens and has performed as a low brass, keyboard, and bass player. He continues as a performer playing bass trombone as a member of the Denver Pops Orchestra and TCB, as well as an on-call musician for ensembles across the Denver Metro area. Robert holds a Bachelor of Music Education degree from the University of Northern Colorado with an emphasis in wind conducting and jazz pedagogy and a minor in music performance. He has a master's in educational administration.
As an educator, Wagner's career has lasted over 30 years.Wagner has led and directed ensembles and programs at all levels and genres. His ensembles received numerous awards and recognition with invitations to perform in Ireland, Austria, and Hungary, as well as across the United States. The program at Horizon High School was often recognized for its excellence in its concert and jazz programs. As a conductor, Wagner is in demand as a clinician and guest conductor. He frequently adjudicates festivals for concert bands, orchestras and jazz ensembles. He studied conducting with David Wallace, Alan MacMurray, Eugene Migliaro Corporan, and Gene Aitken. Currently Bob is involved with the TCB by playing his bass trombone.
---
Jon Borodach has enjoyed a dynamic career as a conductor, instrumentalist, and music educator. Before coming to Colorado in 2008, Borodach was the director of instrumental music at Grossmont High School in La Mesa, California, in eastern San Diego County. Under his baton, the Grossmont ensembles consistently earned Unanimous Superior ratings at regional music festivals and contests. During his career, Borodach led his groups on concert tours of Washington, D.C., Philadelphia, New York and San Francisco. Graduates from the Grossmont High School music program have earned scholarships to study music at the University of North Texas, the University of Nebraska, the University of Arizona, the University of California at Los Angeles, and several California State University locations including SDSU. From 2001-2004 Borodach was also the associate conductor of the San Diego Wind Ensemble, a professional-level ensemble comprised of freelance musicians from San Diego County. Borodach has served as an adjudicator and clinician for the Southern California School Band Orchestra Association. Borodach holds a Master of Music degree in instrumental conducting from San Diego State University
---
David Kish was the first conductor of the Thornton Community Band and lead the band for the first three years. After successfully leading the band, David the left to pursue further opportunities was David by serving as Director of Bands and Professor of Music at Metropolitan State University in Denver where he conducts the Wind Ensemble, Symphonic Band, and teaches conducting and music education courses. Most recently, David was appointed Conductor and Musical Director of the Colorado Wind Ensemble in 2015. https://www.coloradowindensemble.org/about-the-colorado-wind-ensemble/director/